On just about every street you'll find trees in bloom, shrubs bursting with color and window boxes filled with fragrant flowers. You can see these beautiful blooms – and many more – by simply walking the Battery, the streets South of Broad and in many of Charleston's parks.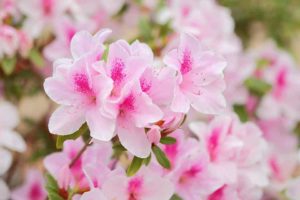 Azaleas: With thousands of varieties of azaleas, they are a common shrub. You might not give them a second look most of the year but in the spring, they are certain to get your attention. Look for their mostly hot pink, red and white flowers in yards, gardens and parks all over town.
Wisteria: A high-climbing, trailing vine, wisteria can grow up to 70 feet long. In the spring, it drips clumps of lilac blooms in a showy display of springtime beauty. Wisteria is an invasive plant because its dense growth can choke out trees and other plants.
Jasmine: This plant's intoxicating scent is a true signal spring has arrived. Confederate jasmine is commonly found here in coastal South Carolina and its fragrant clusters of white and yellow flowers bloom on twining stems in spring and into the summer.
Crepe Myrtle: With its arching branches and flowers of bright pink, red and white, this tree is a Southern staple. Once the crepe myrtle shows its colors, you know spring is on its way.