When:
September 24, 2023 @ 10:00 am – 2:00 pm
2023-09-24T10:00:00-04:00
2023-09-24T14:00:00-04:00
Where:
The Wonderer
1705 Meeting Street Rd
Charleston, SC 29405
USA

Contact:
She Biology Skincare
8436959988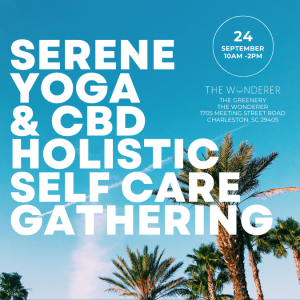 Join us for a transformative experience at the She Biology Wellness Event, where we celebrate the power of nature, CBD-infused skincare, and the art of self-care. Step into the soothing embrace of a west coast palm tree feeling as we gather at the Greenery, located at The Wonderer, to embark on a journey of relaxation, rejuvenation, and mindful living.
Event Highlights:
Yoga Class: Kick off the event with a rejuvenating yoga class, led by an experienced instructor Mara, who will guide us through a series of invigorating poses and mindfulness exercises. Connect with your body, mind, and breath as you set the foundation for a day of holistic wellness.
Mindful Skincare Routine Lesson: Discover the power of CBD-infused skincare in a special lesson on mindful skincare routines with the CEO of She Biology Skincare, Chinenyem. Learn how CBD can soothe, nourish, and elevate your skin to its most radiant and glowing state. Uncover the secrets to caring for your skin in a way that honors both your body and the environment.
CBD Education and Skincare Benefits: Learn more about the revolutionary hemp plant and its holistic benefits from Lead Plant Grower Grace from Merry Hill Hemp Farms and Ellie Davis of Dogleg Farms.
Facilitated Conversation on Self-Care: Engage in a meaningful and transformative conversation on self-care with two experienced licensed therapists with Patricia Felder , Nancy Cook, and Dr. Jeannelle Perkins-Muhammad. Explore the importance of self-compassion, mental well-being, and the empowering impact of nurturing oneself. Gain valuable insights and practical tips to incorporate self-care into your daily life.
At She Biology Skincare, we are passionate about creating a space where you can embrace the healing powers of nature, indulge in the benefits of CBD-infused skincare and wellness, and harness the strength of self-care to elevate your overall well-being. Our event is designed to transport you physically, mentally, and emotionally to a more relaxed and mindful environment, where you can achieve an improved sense of balance and self.
We invite you to join us on this immersive journey of self-discovery, self-care, and self-empowerment. Come connect with like-minded individuals who share a passion for holistic well-being and a desire to embrace the transformative power of nature and CBD-infused skincare. While enjoying blender bomb smoothies, juicing and healthy foods.
Please reserve your spot early, as spaces are limited. Don't miss this opportunity to recharge your mind, soothe your soul, and revitalize your body at the She Biology Wellness Event.
We can't wait to welcome you with open hearts and arms at this rejuvenating gathering.
See you there!
Follow us on Instagram, @shebiology to stay up to date on the event.
If you have questions please email us at info@shebiology.com