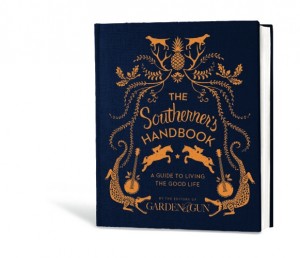 Let's face it some things are just "southern." There are skills and situations that require a distinct southern touch, like how to shuck an oyster, cook grits or throw a football tailgate party.
The editors of Garden & Gun, an award-winning magazine about the South headquartered in Charleston, have created a guidebook for Southerners (and would-be Southerners).
Garden & Gun, which covers food, fashion, sports and traditions of the South, published this fall, "The Southerner's Handbook: A Guide to Living the Good Life" (HarperWave, $27.99). It's a "compendium of essential Southern skills, straight from the mouths of the region's leading experts and writers."
The illustrated anthology-style manual is organized similar to the magazine, focusing on Food & Drink, Style, Entertaining, Home, Gardening, Sporting and The Outdoors, and Southern Tradition.
"The Southerner's Handbook" provides instruction on such tasks as:
How to season grits, fry okra, and clean a blue crab.
How to drink bourbon, make homemade bitters, and mix the perfect Bloody Mary.
How to fly fish, shoot a dove, and bet on a horse.
How to set a sideboard, polish silver, and be a proper houseguest.
How to break in Western boots, fold a pocket square, and pull off seersucker.
How to give a memorable toast, throw a crawfish boil, and host a killer tailgate .
How to write the "great Southern novel," play a blues song, and plan a road trip.
Read more about the handbook and get details on how to order a copy of your own.
Also, check out this Made in the South event put on by Garden & Gun on Dec. 6-8 in Charleston. The Jubilee is a weekend festival combining sporting, shopping, food, music and art, as well as special dinners and live entertainment on the grounds of the historic Charles Towne Landing.
Among the many features of the weekend:
The Made in the South Marketplace featuring goods for sale from Southern tastemakers.
Meet the Makers Trunk Show offering both men's and women's apparel and sporting gear from leading Southern designers.
The Ultimate Oyster Roast as well as a Pit Master's Pig Roast.
The BoBo Intriguing Objects antiques tent from design guru Mark Sage and his team.
The Southern Pantry food tent filled with purveyors and their small-batch, big-batch, and hard-to-find food and drink items.
A Garden & Gun Club exclusive dinner and show featuring James Beard Award–winning chef Mike Lata, who will prepare a one-of-a-kind food/drink experience followed up by music from the legendary Junior Brown.
Get tickets and more information on Jubilee at gardenandgunjubilee.com.