Well-known Southern author Pat Conroy was always so elegant in his descriptions of Charleston. In writing the foreword for "The Mayor," a biography of former Charleston Mayor Joe Riley, Conroy expressed what so many people feel when they visit here: "There is no city on Earth quite like Charleston."
Conroy wrote, "From the time I first came there in 1961, it's held me in its enchanter's power, the wordless articulation of its singularity, its withheld and magical beauty. Wandering through its streets can be dreamlike and otherworldly, its alleyways and shortcuts both fragrant and mysterious, yet as haunted as time turned in on itself."
It's possible the spring season in Charleston is most captivating. The city is delicious with the scent of jasmine. Azaleas are bursting forth in pink. The beach sun is warm on our face. There really is no city quite like Charleston.
So, we invite you to enjoy every moment of your visit – whether you're learning about Civil War history, kayaking Shem Creek, relaxing on the beach or dining in a world-class restaurant. Let yourself be swept up in Charleston's captivating spell and enjoy the many springtime activities the area has to offer.
HISTORY
If you enjoy seeing how some of Charleston's earliest families lived, plan to visit one of several plantations to explore gardens, homes and even slave cabins for a look at life in the Lowcountry.
Boone Hall Plantation: Englishman Maj. John Boone established Boone Hall Plantation in 1681 when he started his plantation on the banks of Wampacheone Creek. Spanning 738 acres, the plantation offers tours and exhibits detailing plantation life, including black history and details on the slaves who lived at the plantation.
Drayton Hall: The 350-acre plantation served as the hub for John Drayton's vast commercial plantation empire in the early 1750s. Over the course of his lifetime, he owned close to 100 different plantations across South Carolina and Georgia where enslaved Africans, Native Americans and their descendants grew rice and indigo.
Magnolia Plantation: Founded in 1676 by the Drayton family, Magnolia Plantation is home to the oldest public gardens in America.
McLeod Plantation Historic Site: Opened in 2015, this 37-acre site provides a detailed history of the slaves who worked its cotton fields and their struggle for freedom following the Civil War.
Middleton Place: Tour America's oldest landscaped gardens and a house museum. Explore the stable yards, where crafts people re-create the activities of a self-sustaining Lowcountry plantation.
Founded in 1773, The Charleston Museum, America's First Museum, has been discovering, preserving, interpreting, celebrating, and sharing ever since. The museum's vast array of collections, exhibitions and educational programs are designed to inspire curiosity and conversation – about the South Carolina Lowcountry – and the stories that have shaped the city.
Go deep into Charleston's roots with a visit to Charles Towne Landing State Historic Site. This state park sits on a marshy point off the Ashley River on the spot where a group of English settlers landed in 1670 and established what would become the birthplace of the Carolina colony.
The Old Exchange and Provost Dungeon, constructed in 1771, is where South Carolina ratified the U.S. Constitution in 1788, becoming the eighth state to join the union. It was used as a prison by the British occupation during the Revolutionary War.
Confederate forces fired the first shots of the Civil War at Federal troops at Fort Sumter at 4:30 a.m. on April 12, 1861. Fort Sumter surrendered 34 hours later. Throughout the war's duration, Fort Sumter would play an important role as Union forces spent nearly four years trying to take it back.
FAMILY FUN
If you've brought the entire family to Charleston, take advantage of the many activities that get the kids off the screens and into the great outdoors.
Plan an eco-adventure tour to Capers Island, an undeveloped barrier island accessible by boat only. Collect sharks' teeth and seashells while learning about the Lowcountry habitat and wildlife that live in these unspoiled areas.
Charleston County Parks has several parks around the Charleston area, including waterparks, a skate park, dog parks and plenty of trails for walking and biking. Waterparks are located in North Charleston, on James Island and in Mount Pleasant. They are usually open on weekends in May and then all week throughout the summer. Visit charlestoncountyparks.com for the full schedule.
Get up close and personal with birds, sea turtles, fish and reptiles at the South Carolina Aquarium. Don't miss the Zucker Family Sea Turtle Recovery area of the aquarium, which walks visitors along the path of a rescued sea turtle as it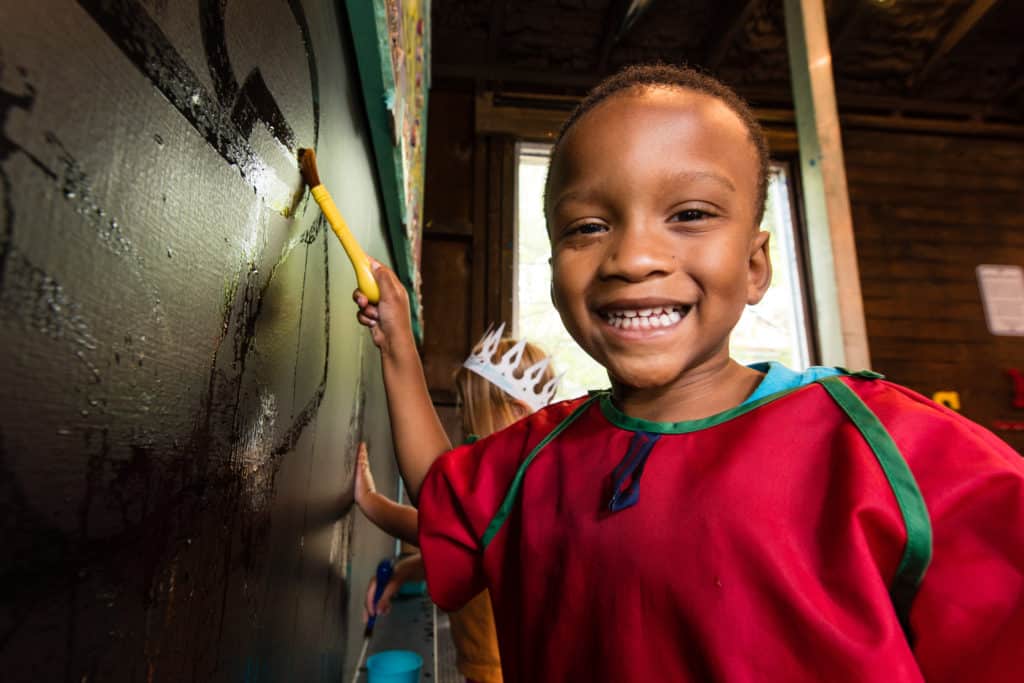 moves through treatment and rehabilitation and ultimately to release back into the ocean.
The Children's Museum of the Lowcountry offers a variety of exhibits for young visitors, including water stations, an arts and crafts center, a medieval castle and a pirate ship for climbing (closed Mondays).
OUTDOOR/ADVENTURE
Put your climbing and balance skills to the test at Wild Blue Ropes Adventure Park, featuring 72 suspended obstacles up to 35 feet in the air. Or check out Charleston Zip Line Adventures where you can zip from a 65-foot tower through the trees, going between tree platforms, towers, three swinging bridges and a grand finale zip of 750 feet.
No trip to Charleston is complete without some time in the sand and surf. Folly Beach, Sullivan's Island and Isle of Palms are most popular among visitors and each provides a slightly different beach vibe.
Ever wanted to try kayaking or paddleboarding? Now's your chance. Nature Adventure Outfitters has a variety of kayaking and paddleboarding tours for all ages and experience levels.
Combine some Charleston history with cool water breezes and spectacular views when you book a boat tour with Charleston Harbor Tours. Climb aboard the Carolina Belle to enjoy a scenic 90-minute tour with more than 75 landmarks and points of interest. SpiritLine Cruises also provides a captivating history lesson as licensed tour guides narrate your trip around the Charleston harbor.
Don't let this good time be the one that got away. Try your hand at fishing in the Lowcountry. Most fishing charter companies supply all the bait, fishing rods and instruction so visitors of all ages and experience levels are welcome. (Boat & water tours)
ART & CULTURE
Charleston has a vibrant arts scene with several theaters, art galleries and cultural events. With more than 40 art galleries in the downtown Charleston area, art lovers can explore photography, painting, sculpture and more. Visit charlestongalleryassociation.com to download a map and check the schedule for art walks and upcoming gallery events.
Also, the Town of Summerville's historic town square is home to art galleries, antiques shops and a great little quilt shop with fabrics ranging from 1800s reproductions to the latest modern designers.
The Lowcountry's theater community is rich with productions ranging from musicals and mysteries to comedies and contemporary plays. Visit theatrecharleston.com for a list of local theater companies and upcoming productions. Plus, during Piccolo Spoleto, be sure to look for more than 500 performing, literary and visual arts events all around town from May 25 to June 10.
The Gibbes Museum of Art is home to the foremost collection of American art that incorporates the story of Charleston. Visit the first floor, including the Museum Store and Gibbes Café, for free. Purchase tickets to tour the second- and third-floor galleries.
EAT & DRINK
If you love a pint of local, craft beer, you've come to the right place. Charleston is home to several local breweries serving up IPA, stouts and seasonal brews. Many offer special events and brewery tours.
Charleston Food Tours, hosted by Bulldog Tours, is the perfect way to eat your way around Charleston. Tour a chef's kitchen, take a truly sweet dessert tour or book the Savor the Flavors of Charleston Tour to learn all about the evolution of Charleston cuisine while nibbling on grits, benne wafers, Southern pralines, collard greens and Lowcountry barbecue.