One of benefits of Charleston's mild winters is the blooms that add a pop of color to the season and serve as a sign that spring is coming. The camellias, in particular, come to life in the winter. Look for them in bloom in parks and gardens around town or take a camellia walk at one of the plantations.
Beauty & History: Camellias at Middleton Place is Feb. 4-5. Camellia season kicks off with two events highlighting the winter-blooming flower. On Saturday, take part in a workshop discussing growing camellias, from propagation to care. On Sunday enjoy a lecture with a guest speaker and a reception on Sunday.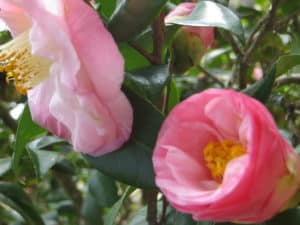 Middleton Place hosts camellia walks at 11 a.m. Tuesday, Thursday and Saturday from Feb. 7 through March 18. Middleton Place has more than 4,000 camellias, many of which are more than 220 years old. Special tours given by expert guides focus on the camellia varieties, including the 1786 Reine des Fleurs, one of the first camellias planted in America. Free with general admission; to reserve your spot, call 843-556-6020 or visit middletonplace.org.
Magnolia Plantation and Gardens offers free camellia walks daily through March. Some 20,000 camellias are in bloom, including more than 1,000 cultivators of Japonica. Ancient camellias (dating to pre-1900) are a specialty at Magnolia. The family introduced more than 150 cultivars of Japonica to America from the 1840s to 1940s as well as searching worldwide for camellias facing the threat of extinction. (magnoliaplantation.com)