Throw off the gray of winter and soak up the springtime sunshine. Charleston visitors have plenty of opportunities to enjoy the water, beaches, natural resources and parks. Here are a few of our suggestions for getting outdoors: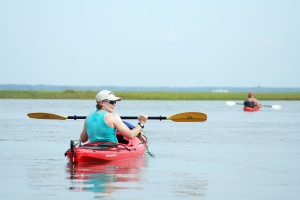 Wild on the water
Try your hand at kayaking, canoeing or standup paddle boarding. Plenty of adventure companies offer guided tours, lessons and rentals so you can explore areas like Shem Creek, blackwater swamps, the Edisto River and more.
Eco exploration
Nature and eco-tour companies take visitors on explorations of barrier islands and salt marshes on the outskirts of Charleston. Visitors can learn about the plants and animals that inhabit those areas while getting a chance to collect shells and shark's teeth.
Nuts for nature
The Lowcounty is home to a varied ecosystem that provides habitat for a variety of marine life, birds and other animals. The Center for Birds of Prey provides educational and outreach programs on bird conservation issues. The center also operates an avian medical clinic for injured birds. Guided tours are available Thursday through Saturday and include flight demonstrations featuring hawks, falcons, owls and eagles. The center is located in Awendaw, north of Mount Pleasant. For information, call 843-971-7474.
The Sewee Visitor & Environmental Education Center in Awendaw is a wealth of eco opportunities. The center is home to two young red wolves and hosts a number of educational events. The center is the gateway to both Cape Romain National Wildlife Refuge and Francis Marion National Forest. Cape Romain, established in 1932 as a migratory bird refuge, encompasses more than 66,000 acres in a 20-mile segment of the Atlantic coast.
The Francis Marion is a 258,000-acre national forest with a history that traces back 10,000 years. Native Americans harvested wildlife and plants there. Later, Europeans settled the area and cleared land for small farms and rice plantations. Following the Civil War, wide-scale lumbering cleared much of the forest land for timber products. President Franklin Roosevelt established the land as a national forest in 1936. Today, visitors can enjoy 120 miles of trails for canoeing, hiking, horseback riding and mountain biking. Recreational areas for camping, picnicking and boating are also available.
Charles Towne Landing State Historic Site is a nature retreat in the heart of the city. The park marks the site of the first permanent European settlement in South Carolina. Visitors can immerse themselves in 80 acres of English park gardens and 7 miles of nature trails (open to bikes) – with a good chance of spotting wood storks, alligators and coastal wading birds. The park is also home to an Animal Forest zoo with bison, puma, black bears, otters, birds, wild turkeys and more. For more information, call 843-852-4200.