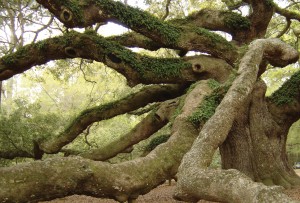 We've been taking you on a tour of Wadmalaw Island with stops at the Charleston Tea Plantation and Irvin-House Vineyards. Next, you'll want to stop off at Angel Oak Park on nearby Johns Island for a look at one of the most magnificent oak trees you'll ever see.
Visit the public Angel Oak Park to see the majestic oak tree thought to be one of the oldest living things east of the Mississippi River. For centuries, the Angel Oak has grown up to 65 feet and mostly out (as live oaks do) to create a canopy of branches spanning 17,000 square feet. Some of the limbs are so heavy they rest on the ground.
Over the last several months, the Lowcountry Open Land Trust, government entities, businesses and individuals have rallied around this majestic tree in an effort to purchase the land surrounding the oak tree for a protective buffer and public park. Learn more about the effort at the land trust website at lolt.org.