Charleston's springtime calendar is filled with festivals and events that celebrate everything from grits to strawberries and from art to tea. Here are some of our favorite upcoming festivals:
Flowertown Festival: From April 4-6, Summerville's Azalea Park and surrounding streets will be filled with more than 200 arts and crafts displays. Visitors can take in the blooming azaleas, wisteria and dogwood. Restaurants will have food available and there's plenty of activities for the kids. Admission and parking are free at the Flowertown Festival, one of the largest arts and crafts festivals in the Southeast.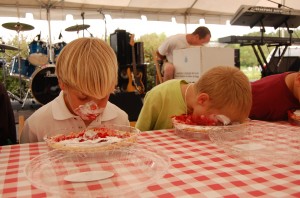 The Lowcountry Strawberry Festival: Celebrate all things strawberries April 10-13 at Boone Hall Plantation. Visitors can pick their own strawberries from the fields while taking in multiple events and attractions, including more than 30 rides, strawberry pie eating contests, the Little Miss Berry Princess Contest, petting zoo, musical entertainment, a farming exhibit and much more. Admission is $5 for ages 12 and up; $3 for ages 3-11; and children 2 and under are admitted free with an adult. Additional purchase required for rides.
World Grits Festival: Celebrate that delicious Southern delicacy – grits. The 29th annual Grits Festival is April 11-13 in St. George (about a 45-minute drive from downtown Charleston). This festival is about all things grits so get ready to eat grits, buy grits, learn how grits are made and even join dive into a vat of grits for the Grits Rolling Contest. Interestingly, the festival came about when two major grits companies discovered they were shipping a lot of grits to the Piggly Wiggly grocery store in the small town. It turned out that the people of St. George at more grits per capita than any other place in the world. And so was born the annual World Grits Festival.
Blessing of the Fleet: Each spring, locals and visitors gather in Mount Pleasant to send local shrimpers off to a safe and prosperous shrimping season. This year's festival is 11:30 a.m. to 6 p.m. April 27 at Memorial Waterfront Park. Visitors can enjoy a boat parade, ceremonial blessing of the shrimping/fishing fleet, seafood samplings, music, arts/crafts and activities for the kids. Admission and parking are free.
North Charleston Arts Festival: This event runs May 2-10 and is a celebration of arts and culture featuring national, regional and local artists and performers. More than 100 events take place around the area with most free or modestly priced making this festival accessible to all. The main event is 10 a.m. to 4 p.m. May 3 and 2-5 p.m. May 4 at the Charleston Area Convention Center. Events include more than 40 performances, arts and crafts vendors, a gem and mineral show, an antique show and children's activities. Parking and admission are free.
Sculpture in the South: The weekend of May 17-18, more than 35 world-class sculptors will present their artwork for sale during this event in Summerville's Azalea Park. This weekend event has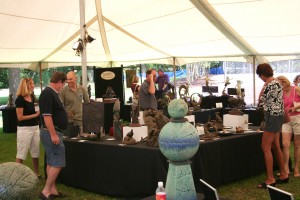 drawn national recognition and become a mainstay within the community. Proceeds from the event go to support sculpture purchases for the Summerville Permanent Public Sculpture Collection.
First Flush FesTEAval: At the annual First Flush FesTEAval, the Charleston Tea Plantation welcomes the growth of new leaves on the tea plants in the spring time after a winter of rest. The eighth annual festival begins at noon on May 24 at the plantation on Wadmalaw Island. This year's festival features The Avett Brothers plus Stop Light Observations, Tyler Boone Band, Ben Fagan and the Holy City Hooligans and more. Tickets are $37.50 in advance and $45 the day of the show. Children 8 and under are admitted free.
Snap a photo at one of these festivals and enter our #MyCharlestonPic photo contest. Simply use the hashtag #MyCharlestonPic and tag us on Twitter or Instagram or post the photo on our Facebook page. We'll pick one of the best photos to publish in the summer issue of Traveler of Charleston.