Fried, steamed or raw, oysters are a Charleston delicacy
What could be better than gathering with friends and family over a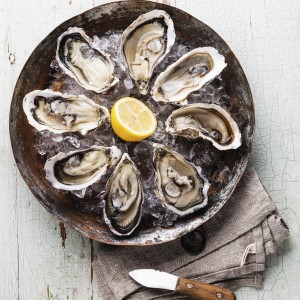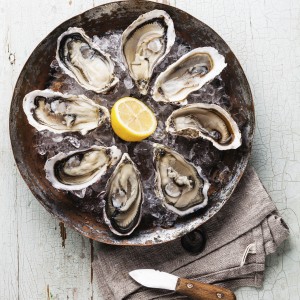 steaming bucket of local oysters on a chilly day in Charleston? You've timed your visit with oyster season so take advantage of the Lowcountry's many restaurants serving up local oysters plus the oyster roasts where you can experience first-hand an afternoon of oyster shucking.
Oyster season began in October and runs through May 15. A good rule of thumb on remembering when oysters are in season is if there's an "r" in the month. That's why late fall and early winter are prime months for a Lowcountry oyster roast.
Restaurants and seafood markets often sell a variety of oysters harvested locally and up and down the eastern seaboard. While Carolina oysters may be the same species as other oysters along the East Coast, they are distinct in two ways. Local oysters are longer thanks to all the time they spend growing in the pluff mud. The oysters have to grow longer to stay above the pluff mud, explained Dan Long, wholesale manager and vice president of Crosby's Seafood Co.
So, you can recognize a Charleston oyster because its shell is longer; whereas oysters from the Gulf Coast, for example, are more rounded and cup-shaped.
Charleston oysters grow in the local estuaries where high tides make the water more salty, Long said. So, expect a higher level of salinity from local oysters. To cut the salty taste, many people like to eat raw oysters with a dash of lemon juice or cocktail sauce.
Long said the demand for local oysters is high among restaurants as well as individuals who want to host a backyard oyster roast. Crosby's offers 100 different types of oysters from along the East Coast as well as local oysters that are brought in daily.
When it comes to sampling a variety of oysters, Long joked that truly the "world is your oyster." A number of Charleston area oyster bars provide a wide selection for any tastes.
Here are a few places you can order up oysters:
Here are a few places you can order up oysters in Charleston
Amen Street Fish & Raw Bar
East Bay St. in Charleston
843-853-8600
amenstreet.com
Menu: Fried oysters with a side of homemade dill tartar, oyster po' boy or add fried oysters to any salad selection.
Bowens Island Restaurant
1870 Bowens Island Road in Charleston (Folly Beach)
843-795-2757
Menu: A favorite oyster-eating spot among locals, this is a great place to try local oysters in a casual, beachy setting.
Charleston Crab House
41 S. Market St. in Charleston
843-853-2900
145 Wappoo Creek Drive in Charleston (James Island)
843-795-1963
charlestoncrabhouse.com
Menu: Carolina oysters, baked oysters McClellanville or chilled raw oysters on the half shell.
Coast Bar and Grill
39-D John St. in Charleston
843-722-8838
holycityhospitality.com
Menu: Oyster happy hour (1/2 dozen raw, steamed or fried), oysters Rockefeller or fried oyster platter.
Folly Beach Crab Shack
26 Center St. on Folly Beach
843-588-3080
crabshacks.com
Menu: Order up a dozen oysters on the half shell, an oyster bucket or fried oysters.
Hank's Seafood Restaurant
10 Hayne St. in Charleston
843-723-3474
hanksseafoodrestaurant.com
Menu: Raw bar with gulf oysters or oyster sampler, Hank's Oyster Stew or fried oysters platter.
Hyman's Seafood
215 Meeting St. in Charleston
843-723-6000
hymanseafood.com
Menu: Fried oysters, fried oysters dipped in buffalo sauce, raw oysters on the half shell or oyster po' boy.
Leon's
698 King St. in Charleston
843-531-6500
leonsoystershop.com
Menu: Raw oysters, char-grilled oysters, fried oysters Rockefeller, oysters casino (with piquillo peppers, bacon, lemon, chive) or fried oyster sandwich.
Morgan Creek Grill
80 41st Ave. on Isle of Palms
843-886-8980
morgancreekgrill.com
Menu: Fried oysters with buffalo sauce or order a fried or broiled platter of oysters. Check the website for details on Saturday afternoon oyster roasts.
Noisy Oyster Seafood Restaurant
24 N. Market St. in Charleston
843-723-0044
7842 Rivers Ave. in North Charleston
843-824-1000
noisyoysterseafood.com
Menu: Order up six fresh shucked gulf oysters topped with spinach, bacon, garlic and Parmesan cheese; deep-fried gulf oysters in spicy buffalo sauce, or a fried oyster and bacon po' boy.
Pearlz Oyster Bar
153 East Bay St. in Charleston
843-577-5755
9 Magnolia Road in Charleston (West Ashley)
843-573-2277
pearlzoysterbar.com
Menu: Sample oysters from Charleston, plus from along the East Coast, Gulf Coast and British Columbia.
Shem Creek Bar & Grill
508 Mill St. in Mount Pleasant
843-884-8102
shemcreekbarandgrill.com
Menu: Variety of oyster dishes both steamed and on the half shell, plus oyster stew and Oysters Charleston (baked oysters topped with crabmeat, cheddar jack and sour cream).
167 Raw
289 East Bay St.
843-579-4997
167raw.com/Charleston
Menu: Order up oysters from the raw bar or purchase oysters individually from the fish market.
Interested in hosting your own oyster roast? Pick up a bushel at:
Crosby's Seafood Retail
382 Spring St. in Charleston
843-937-0029
crosbysseafood.com
Huff's Seafood
765 Folly Road on James Island
843-762-1989
huffsseafood.com
Mt. Pleasant Seafood Co.
1 Seafood Drive in Mt. Pleasant (on Shem Creek)
843-884-4122
mtpleasantseafood.com
Headline Area Oyster Events
Lowcountry Oyster Festival – Join in the world's largest oyster festival each January at Boone Hall Plantation in Mount Pleasant. This event has been named one of the "top 20 events in the Southeast" by the Southeastern Tourism Society. More than 80,000 pounds of oysters are part of this favorite winter event that includes oyster shucking and oyster eating contests as well as live music, wine, a selection of domestic and imported beers, a children's area and a food court showcasing a variety of local restaurants. A portion of the proceeds benefit local charities. Tickets: charlestonrestaurantassociation.com | 843-577-4030
Oysters on the Point – Music, chili, locally steamed oysters and a Bloody Mary bar at Charleston Harbor Resort and Marina in Mount Pleasant. Cost: $5 general admission; free for children 12 and under. For dates, visit facebook.com/OystersOnThePoint
**Don't forget to recycle your oyster shells. Call 843-953-9397 for the nearest shell recycling center.