Guest blog by Mary Alice Monroe
The secret's out … my beloved city of Charleston, South Carolina, is one of the best destinations in the world! The news made local headlines with The Post and Courier reporting that Travel + Leisure magazine ranked the Holy City as No. 1 in the U.S. and Canada.
Charleston is a world-class city, and I believe that part of the city's intoxicating charm lays just beyond the city limits. The island towns with unspoiled beaches, the nearby national parks and historic landmarks, and the popular suburban communities are valuable components to the overall love travelers and residents alike have for Charleston.
One of the outlying gems of Charleston is the town of Summerville. Nicknamed the Flowertown in the Pines, this booming community is just 20 minutes from the city. My affinity for this small town began several years ago when a local independent bookstore (sadly, it's no longer in business) and the Timrod Library invited me to be the featured author at a book signing event in the quaint, red brick front library located in the heart of town and proudly listed on the National Register of Historic Places.
I felt instant fondness for Summerville as I made my way into town, driving over railroad tracks that welcome all to the historic downtown district, with Hutchinson Square on my right. The small plot of well-manicured green space is an eye-catcher lined with an eclectic mix of lively shops in buildings bearing the quintessential style of southern charm. This area is considered the heart of town, with weekly events that attract a crowd. I knew I wanted to one day weave Summerville into my work.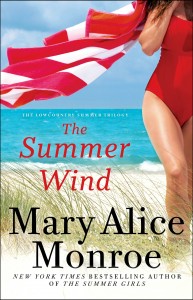 I found the perfect opportunity in my Lowcountry Summer Trilogy. In the second installment, "The Summer Wind," my main character Dora is getting divorced, so she must let go of her old Victorian house she had dreamed of renovating.
Whenever I am in Summerville, I make time to drive through the historic district to gaze at the dozens of beautiful homes, some dating back to the 1800s. This is a town rich with history that is perfect for a day trip.
Did you know that Summerville is said to be the birthplace of sweet tea?
Whatever you're craving to drink or eat, I assure you Summerville isn't lacking in options. Some of the popular places among locals include Eva's Restaurant, Continental Corner Greek Restaurant, Coastal Coffee Roasters, Oscar's Place and Perfectly Frank's.
Take a stroll down the cobblestone street of Short Central, a shopping district in downtown Summerville of locally owned businesses. Not far is Azalea Park, adorned with sculptures and hundreds of azalea bushes.
It's a picture-perfect setting for the family, most especially mid-spring when the azaleas are in full bloom with vibrant displays of fuchsia, red, pink and white flowers everywhere!
I don't get to visit Summerville as often as I would like. But when I am "in that neck of the woods" as we sometimes say around here, I have no shortage of things I want to do, see and visit. Whether you're a local like me or "not from 'round here," I hope you'll make time to see what awaits you just beyond the city limits of our beloved Charleston.
Happy summer travel season, y'all!
Mary Alice Monroe is an award-winning, bestselling author of 16 novels, including her newest "The Summer Wind." She's a passionate writer with a conservationist's heart, reconnecting human nature to the natural world through the power of story. Visit her at www.maryalicemonroe.com.