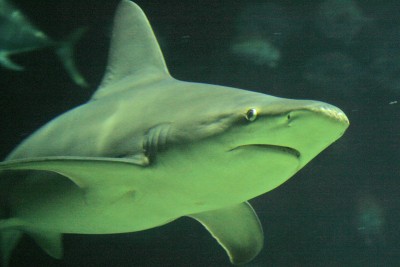 It's everyone's favorite summer tradition: Shark Week! Since 1987, the Discovery Channel has been devoting a week of programming to these ocean predators. Get geared up for Shark Week programming with a visit to the South Carolina Aquarium for an up close and personal experience with sharks.
From Aug. 1-10, the aquarium will celebrate Shark Week with shark-themed dive shows, interactive activities, shark art in the Great Hall, shark puzzles or dive for shark artifacts in the Sharkaeology station. Don't forget to snap a photo of yourself in the megalodon's massive jaw and then share it with hashtag #FishFace. Or simply admire the sharks swimming in the Great Ocean Tank. All Shark Week activities are free with general admission.
Here are some fun shark facts courtesy of Defenders of Wildlife, a national conservation organization:
* Most sharks are active in the evening and night when they hunt.
* Sharks predate the dinosaurs by 200 million years.
* Most species of shark eat things like fish, crustaceans, mollusks, plankton, krill, marine mammals and other sharks.
* All sharks have multiple rows of teeth and lose teeth on a regular basis. The good news for sharks is that new teeth continue to grow and replace the lost ones.
* There are more than 465 known species of sharks living in the oceans today.
Now you're ready to enjoy the Shark Week programming on the Discovery Channel beginning Aug. 10. Who's up for watching the classic "Jaws?"