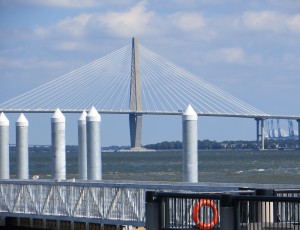 A new water taxi dock at Waterfront Park is open to the public. The park is located at Vendue Range and Concord Street in downtown Charleston. Located at the end of the 'T' shaped pier, the dock will provide access to water taxi services.
The dock, which is ADA accessible, will be a location for Charleston Water Taxi to tie up and pick up and drop off passengers.
Charleston Water Taxi also has a dock at the Charleston Maritime Center, Charleston Harbor Resort, Patriots Point and Shem Creek. The dock will only be used for water taxi services. The public will not be allowed to tie up to the dock nor will fishing be allowed on the dock. Charleston Water Taxi offers ferry service, dolphin and sightseeing cruises, private charters and water taxi service between downtown Charleston and Shem Creek on Friday and Saturday. For more information, visit charlestonwatertaxi.com.