Here at Traveler of Charleston, we recently hosted a young student for a career day. She wanted to learn more about writing and publishing so we gave her the chance to write a blog post about why she loves Charleston. Hope you enjoy it!
By Madison Clark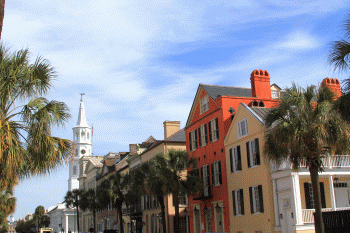 Living here is a blessing to me. Sure, no monumental sky-scrapers or subways. But what do you think of when you picture Charleston? For me, well, I think of coming home. For many people, it's the southern hospitality. Here we are, sipping on our ice cold sweet tea, eating homemade biscuits, saying "ma'am" or "sir" after every sentence, and calling everybody "y'all."
Or, maybe it's the coastal feeling? Riding out in boats, jumping off rickety-old docks, playing in the pluff mud. Perhaps it's the historical air of downtown Charleston? Cobblestone streets, horse-drawn carriages, and large oaks draped in moss are your favorite … and you've even tried the market place. The local vendors there have everything from paintings to books and sweetgrass baskets hand woven right behind the counter.
Or, if you're a beach fan, maybe you walked the pier down at Folly Beach, the "edge of America" and reminisced in the nostalgic nautical nonsense. Whatever your reason, you (like so many others) have a unique way of remembering Charleston. A type of special bond that we only really get to see when we love something just that much.
Being a local, I've pretty much done everything there is to do. I've even tried playing tourist for a day or two. On the other hand, being only 12 years old, I'm not exactly an expert. But if you've ever really experienced Charleston… I mean really, really gotten to know it like I have, you know just exactly what I'm talking about. And you can't help but fall in love with it!
There are billions and billions of other cities out there, all with their own fantastic personality, but there is only one Charleston, S.C.
Like I said, we all have a special connection to Charleston. And I hope everyone gets the chance to come down here and make their own extraordinary memories and experiences amidst the exploding inspirations and glittering personality of this beautiful city.