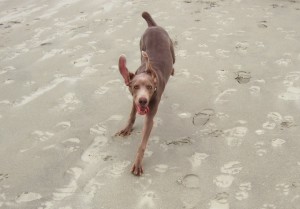 Taking your four-legged family member along for a day at the beach might sound like a great idea, but before you go, know the beach rules for dogs. At many times of the year, especially during the busy summer months, dogs aren't allowed on the beach without a leash. Here's our guide for taking your dog to Charleston area beaches.
Isle of Palms
Dogs are allowed off leash on the beach between 5 a.m. and 9 a.m. April 1 to Sept 14 and then 4 p.m. to 10 a.m. Sept. 15 to March 31. At other times, dogs have to be leashed – even if they're splashing in the water. And pet owners should clean up after their dogs. All dogs belonging to Isle of Palms residents must have a current City of Isle of Palms dog license; visitors are not required to have a dog license.
IOP does have a dog park behind the Recreation Department at 24 Twenty-Eighth Ave.
Folly Beach
Dogs are not allowed on the beach from 10 a.m. to 6 p.m. May 1 to Sept. 30. At all other times, dogs must be leashed and under voice control. Owners should clean up any pet waste.
Kiawah Island
Dogs visiting Kiawah Island must be leashed year round. There are two off-leash dog areas but dogs must be under voice command: the first area stretches from Beachwalker County Park for 1,000 yards to the west (toward Captain Sam's inlet) and the second area is located between the Beach Club and the Ocean Course pedestrian beach access. Dogs may be off leash from Dec. 1 to March 15 on the central portion of the beach between Beachwalker County Park and the Beach Club.
Alligators are common on Kiawah Island so for your dog's safety, don't let him swim in or play near the edge of ponds.
Sullivan's Island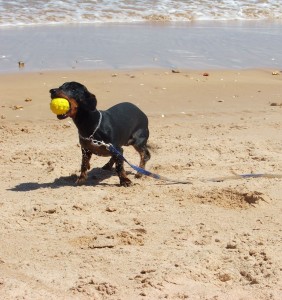 All dogs on the island, including residents, day visitors and vacation renters, must have dog permit from the town. Permits are $35 per dog ($25 for residents) and are issued at Town Hall, 1610 Middle St. Owners should have proof of rabies vaccine.
Dogs are allowed off-leash on the beach 5-10 a.m. May 1 to Sept. 30 and from 5 a.m. to noon Oct. 1 to April 30. From May 1 to Sept. 30, no dogs are allowed on the beach between 10 a.m. and 6 p.m.
Pet waste bags are available near the entrance of each beach access path.
Pet safety tips at the beach:
Remember, if it's hot at the beach for you, your dog will also be extra toasty in her fur coat. So limit the amount of time your dog is on the beach.
Take fresh water so your dog can get a drink; salt water isn't safe for dogs.
Don't leave your dog in the car. Within a matter of minutes, the car temperatures soars and your pet is in grave danger.