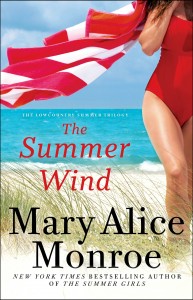 I finished reading "The Summer Wind" by Mary Alice Monroe and was immediately annoyed. I was going to have wait until next summer to get the last installment in the trilogy! Don't you just hate when you get so engrossed in a book you're sad when it ends? I felt the same way last summer when I read "The Summer Girls," the book that introduced us to three half sisters spending the summer at their grandmother's beach house on Sullivan's Island. I was instantly drawn to the distinct, complex and endearing characters. Both books are a must for your summer reading list.
Released last summer, "The Summer Girls" introduced us to Mamaw, who gathers her three granddaughters at her beach house under the guise of her 80th birthday celebration but with the true intent of reuniting the three women who have grown apart over the years and to heal old wounds. The New York Times bestseller also gave readers a look into the very real plight of the Atlantic bottlenose dolphins – a theme that continues into "The Summer Wind."
The second book — which also hit The New York Times bestseller list — picks up mid-summer with this edition focused more on Dora, who is in the process of a divorce while raising a son with autism. Plus, she's trying to get her Summerville home ready to put on the market. Overwhelmed from always trying to do the right thing, Dora suffers a health scare and begins to come to terms with her life, recognizing some changes need to be made. With her grandmother and sisters for support, Dora uses her time on Sullivan's Island for self-discovery and healing.
As Dora deals with her own changes, Carson also faces a major decision, and Harper takes a hard look at her life's direction.
Be sure to pick up a copy of "The Summer Wind" for your beach bag. Plus, for those who live outside Charleston it's a terrific glimpse at the charm and beauty of the Charleston area, including Summerville and Sullivan's Island, which are highlighted in the book. Mary Alice Monroe continues to make Charleston proud with her authentic and purposeful writings.
Now, we can start the countdown to the final book in the trilogy, "The Summer's End" coming in the summer of 2015.
Connect with Traveler of Charleston on Facebook because we have a copy of "The Summer Wind" to give away the week of July 14.
~ Holly Fisher, editor of Traveler of Charleston