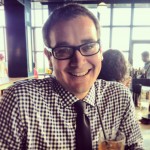 By Scott Wink
Charleston is one of the hottest culinary destinations in the world right now.  Around every corner of the city you'll find some of the country's most talented chefs, hottest restaurants, and delicious locally made products. In order to get the most out of your time in Charleston you'll need to do a little planning.
Here are a few basic tips followed by some of my favorite food recommendations to help you truly enjoy your fall/winter visit to Charleston.

-Don't eat the hotel continental breakfast! A morning walk to get breakfast or coffee is one of best times of the day to see the city coming to life.

-Use rickshaws or taxis to get you to your restaurant of choice. Don't waste time wandering the streets and risk getting lost. This only increases your chances of getting frustrated and just randomly walking into a place you've never heard of. Have a list of places you want to try and don't let your current location prevent you from having an amazing meal.

-Ask your waiters for a recommendation. They will typically point you to some great house specialties.

-Order new things. Skip burgers and chicken breast. Put yourself in the hands Charleston's award-winning chefs and find your new favorite food.
Breakfast:
Glazed Gourmet Donuts at 481 King St. serves up some of the most delicious doughnuts you will ever eat. Pastry Chef Allison Smith only uses house-made dough, jams and glazes and all from natural and local ingredients. Glazed makes 12 flavors of doughnuts each day and that list changes daily depending on the season and availability of local ingredients. Some notable favorites of mine are chocolate mint, strawberry and champagne, pumpkin, chocolate orange ginger, and gingerbread cranberry. They are open 7 a.m. to 3 p.m. Tuesday-Friday and 9 a.m. to 3 p.m. Saturday-Sunday (they may close early if they're sold out). Stroll into Glazed for a delicious start to your day.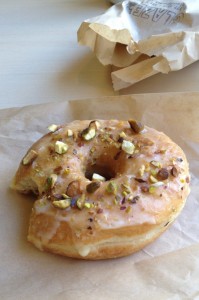 Kudu Coffee and Craft Beer at 4 Vanderhorst St. or Black Tap Coffee at 70½ Beaufain St. are hands down the best coffee shops in town … and probably in the state of South Carolina. They are both small stores that have fantastic baristas and specialize in hand-curated blends and flare. So now the toughest decision of your morning will be coffee first or doughnut first? Do yourself a favor though and get one of each while you are here. You'll thank me later.
Grab a morning java or afternoon pick-me-up at The Press at 19 Vendue Range. Serving Starbucks coffee along with pastries and sandwiches, this café is located on the site of South Carolina's first newspaper, The South Carolina Gazette.
Lunch and Dinner:
People always ask me where to eat seafood while in Charleston. Always. Here are my two favorite picks:  Fleet Landing at 186 Concord St. and Hank's Seafood at 10 Hayne St. Call ahead and get reservations for these places at least a day in advance as they can up fill quickly especially if a big cruise ship is docked in town. Fleet Landing is the only waterfront dining in Charleston. So on a cold day you can sit at a warm table beside a large window and enjoy the beautiful views of the Charleston harbor. The building was formerly a U.S. Naval facility in the 1940s and is built on stilts hovering over the moving tidal waters and marsh grasses. Fleet Landing is open for dinner and lunch. Definitely get some Lowcountry seafood gumbo or a plate of some raw oysters as your starter. Hank's seafood is only open for dinner and is located just a block from the Charleston City Market. Hank's serves almost nothing but seafood dishes. Think oyster stew, clams in wine sauce, roasted grouper, and check out my favorite dish there called Seafood a la Wando. Chef Frank McMahon of Hank's has worked in New York City at the famed Le Bernradin under Chef Eric Ripert and is something special.
Xiao Bao Biscuit at 224 Rutledge Ave. and Basil Thai Restaurant at 460 King St. don't serve shrimp and grits. They are part of a new wave of restaurants that pair Asian spices with our Charleston local ingredients. The best part about these places on a cold Charleston day is that you can spice them up as hot as you want or keep it mild. Some local favorites at Basil include the Basil Duck (a boneless half duck deep-fried and topped with vegetables and red curry sauce) and the Volcano Shrimp (grilled jumbo shrimp, wilted napa cabbage, steamed broccoli and cauliflower, topped with three-flavor sauce).
Xiao Bao Biscuit has been featured in the New York Times and is located in a renovated Charleston gas station. The menu features lots of local meat, fish and produce blended into great Asian recipes. They call it "Asian Soul Food inspired by amazing grandmothers." Here is where you have to trust me. Don't be scared of your lack of experience with Asian or Sichuan flavors. I have taken even the most skeptical people to eat there and most of them still talk about how good the food was. One of my favorite dishes there is Samun Phrai (Thai herbal sausage with spring vegetable yam, coconut chili sauce, basil). Take a quick taxi ride to XBB, as the locals call it.
The Man Pick: King Street Grille at 304 King St. is where you want to be on Saturday or Sunday if your favorite NCAA or NFL football team is playing. It has two levels of seating, a big beer list, almost every game playing, and pretty good bar snacks. Don't let vacation interfere with his football obsession. Make a deal with your wife/husband. She goes shopping on King Street for two hours while he has a beer and watches the game. You'll both feel much better afterward.
Drinks:
My wife and I have motto while traveling on vacation that each day should include a couple of amazing alcoholic beverages and the earlier the first one comes the better. Luckily for you Charleston is seeing an influx of amazing breweries, distilleries and cocktail bars to help you with this as well. I highly recommend you ask the bars and restaurants about our local spirits when ordering. One of those local spirit makers is High Wire Distilling at 652 King St. They currently make vodka, rum, gin and whiskey.   They also offer tours from 1-6 p.m. Thursday-Saturday, every hour on the hour. For $5 you get a tour and three complimentary tastes of their products. Reservations are recommended. Finally on those special nights to remember here are your go-to places for that one last drink to warm you up before calling it a night: Cypress at 167 East Bay St. for its upstairs wine bar, McCrady's at 2 Unity Alley for unique cocktails in its first-come, first-serve bar area, and Coast Bar and Grill at 39-D John St. in a quaint alleyway for a quick late night beer. New on the bar scene is The Whiskey Bar at 54 N. Market St. with the best selection of brown spirits in town.
Guest writer Scott Wink is founder and writer for Charleston Food Bloggers. He offers up his picks for fall dining around Charleston. Find more of his tasty recommendations at charlestonfoodbloggers.com. If you need some instant food advice while in town, Tweet him @foodbloggersCHS.