Don't you wish you could pack up the sights, sounds and tastes of Charleston? Well, it might be tough to put a horse-drawn carriage in your suitcase, but there are some great Charleston items that allow you to take home a piece of the Holy City (and they're less messy to pack). Here's the first of two blog posts with our suggestions for distinctly Charleston items that make a great gift for someone else or as a personal memento of a visit to the world's best city.
Rewined Candles are handmade and blended to mimic the flavors and scents of your favorite wines: Cabernet, Chardonnay, Champagne, Merlot, Pinot Grigio, Pinot Noir, Riesling and Sauvignon Blanc. These soy candles burn 60-80 hours and, to keep the wine theme going, they are molded into recycled wine bottles from Charleston restaurants. Price: $28 | Available at several Charleston area retailers and online at rewinedcandles.com.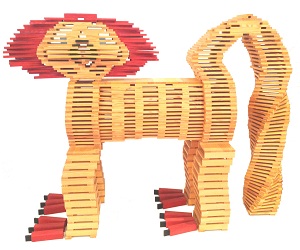 Spark creativity and imaginative play with Kapla, a unique wooden building toy that's a series of identical blocks. Put one block on top the other to create, well, anything from animals and buildings to vehicles and bridges. Price: $20 and up | Available at Tom's Toys LLC, 125 Market St., or online at kaplaus.com.
The chocolates at Christophe Artisan Chocolatier-Pâtissier are so pretty you might have a hard time eating them. But they're so tasty you probably won't be able to resist. Pick up this nine-piece box of hand-painted luxury chocolates for a gift (or yourself). The chocolates are crafted by third-generation French chocolatier Christophe Paume. Price: $20.95 | Available at 90 Society St. or online at christophechocolatier.com.